Today: Smoothies.
A friend of mine said these were delicious. So I decided to try them out.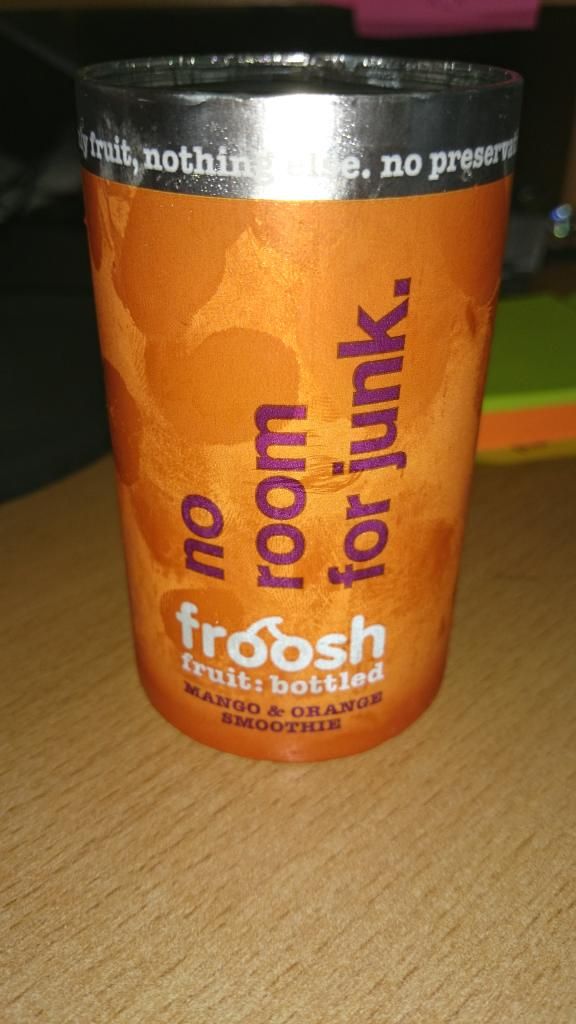 This can contains:
1 apple
1/2 mango
1/3 banana
1/2 orange
citrus juice and passion fruit juice.
What I thought about it? Meh. It was sweetish, sowerish, thickly not pleasant.
Of course, it's a taste thing. This didn't appeal to me, but I'm pretty sure there are LOADS of other people who love them. My friend being one of them.. especially the orange one.
They also had a pink one which I tried…


This can contains:
1/2 pressed apple
5 strawberries
1/4 apple mush
1/5 banana
guava
5 aronia berries
passion fruit joice
How did I like it? Not at all. This was even worse than the orange one. Where the orange one I could drink the whole can, this one I couldn't even finish. I took one sip, tried another one and then gave up.
Again, personal taste.
It's kinda weird that I didn't like these. I love fruit and know I don't eat enough of them. So this could have been a wonderful addition to the fruit I eat. So I guess I'll have to stick to eating the fruit and veg I normally.. just try to eat more of them.
So, in conclusion. Even though I didn't like them, you might. So try them out if you want to.
And I urge you to try at least one new thing a month. Challenge yourself to try new things. I hope I find something new I can try out. If I do I'll post it here.
Lene