Mood: Pretty good.
Listening to: Achievement Hunters play Minecraft; the Galacticraft episodes. They are hilarious.
So, a week ago, after about two months of not working, I worked. Yay. While at work I took the round to see what new stuff we had gotten in and stuff. I found Delicate Touch Exfoliating Foot Sock. It's a foot mask treatment that will make your skin slide right off. OK, that's a gross overstatement. It removes hard skin/calluses over time.


"Exfoliating Foot Mask is a foot exfoliant plus treatment filled in a pair of wearable mask sheets. Put on the mask as you would your socks. It removes all calluses over time, visibly smoothing your feet within 2 weeks. Papaya, Lemon, Apple, Orange and other natural botanical extracts remove calluses while Chamomile Extract calms freshly exfoliated skin."
One pack with two socks cost KR 99,- at -nille.
So, on Monday I put the socks on and left them on for a little over an hour, and then I rinsed it off with water, like it said in the directions.
I was expecting something… but nothing happened. For days nothing happened.
Then yesterday, while I was putting on socks before going to work, I saw skin lose under my feet. It looked like I had had a blister and it had emptied. I could feel something under my feet the whole time I was at work, and when I came home and went to bed I found out why. There was so much skin… it was flaking of like mad.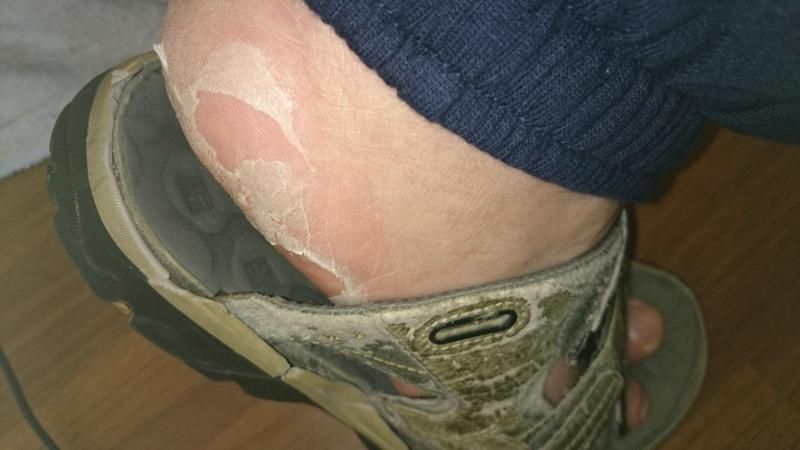 So at the moment my heels are flakey. I can't wait for all the skin to finish flaking and my feet to be baby-butt smooth (please to disregard my ugly, broken shoes. I need new ones, and I haven't had the time to look for new ones in Sweden.).
It looks like I've got an illness of some sort, but it's fine. It doesn't hurt. But you get the idea. I'll keep you guys updated in my feet… I'll try to remember to post something on Monday, one week after.
Be utterly lovely to each other.
Lene