Mood: BORED!
Listening to: Not by choice, the world thingie in Berlin… appearently it's interesting to watch… *shrugs*
So yeah…
I've been busy. And bored… Even with Goliath bringing me many movies, I have been diligent and watched them all. So, I've been watching old Dr. Who episodes with commentary. It's really interesting, actually. But, while listening to them, I've been sowing. You already know I made a hedgehog, and I was planing on making another hedgehog, but I decided I'd make something else. And since the felt was gray, I went with elephant.
Introducing: Retardaphant

As you can understand, I'm not happy with it. It has a nasty bump on its head… and it's REALLY streamlines… I think it must be something like a Duphant or a Elegong… (Elephant/Dugong)

Just in case you were wondering… this is a Dugong… Probably related to the Manatee… unless they are the same animal… who cares?
But they are cute… And they are basically the same… the Dugong is smaller than the Manatee…
But I digress…
I basically did what I did with the hedgehog… sowed along the edge, cut it to shape and stuffed it…
I also made mushrooms…
I made the small one first, the one in front. I cut the stalk by eye… who needs mesurements?
then I made a circle for the buttom and the top. The same colour for the stalk as the bottum half, and for the top I just sowed tiny dots with white thread.
Same with the larger Amanita… the only difference is that the larger red part is glues on….
The brown one was more fun… I can't remember what I did, but I did it and I'm really happy with it..
Kinda looks like a button mushroom.. ^_^
And while I was getting more felt for the mushrooms, I got more pins to put in my hedgehog pincusion…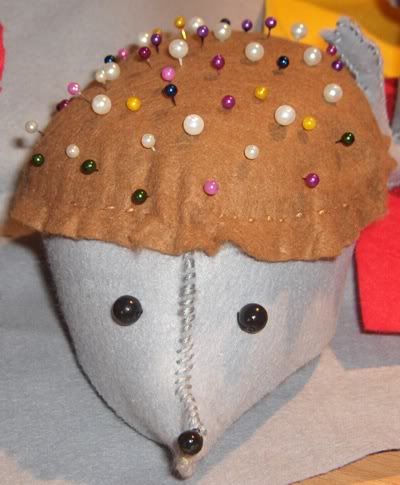 Looks loads better XD
Lene