I honestly can't say I remember my first experience with a console or handheld device. I think it might have been a Nintendo Game & Watch; Donkey Kong jr.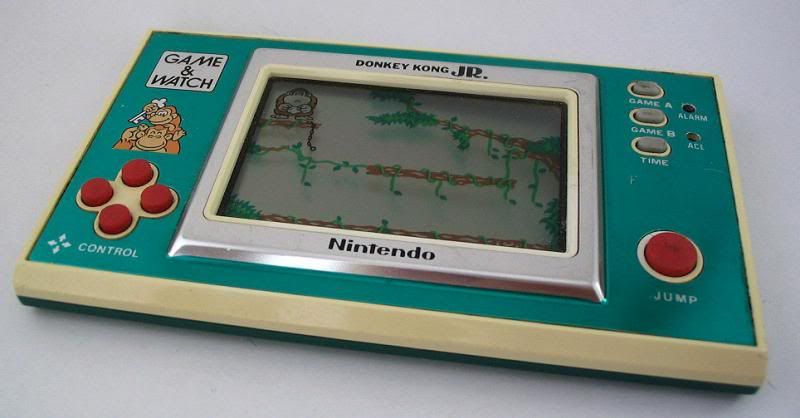 I still have it. It uses LR44 batteries, and I haven't played it for years. I remember it being very difficult at the time. And I remember that last time I played it, a few years ago, it wasn't really that hard at all. I need to get some batteries and play it again. My brother had Donkey Kong, which was a lot cooler because it was a flip open type thing.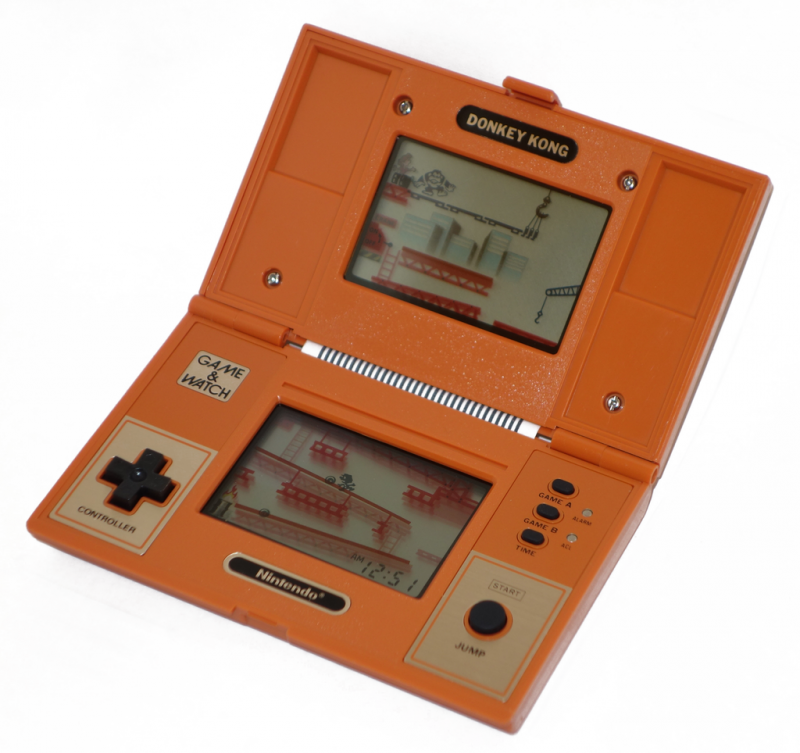 This one was a lot more challenging, but I'm sure it'd be a breeze now. My parents has a flip open thing, too. It was called Green House and you had to kill slugs or caterpillars. It wasn't that fantastic, but it was entertaining and I still have that one too. My best friend had one too, but I can't remember what that one was.
Later my brother and I got a Soundic MPT-03. Or at least I think it was that one.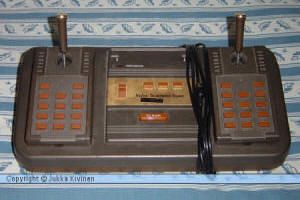 It has some spectacular games on it. Break away, 3D bowling, 3d soccer.. or soccer. At least I think it was the Soundic. If it wasn't that one it was the Emerson Arcadia 2001. But the Soundic looks a lot more like the one I have in my minds eye.
It was alright, I guess, for that time. We were young and didn't have anything to compare it to. Not until my brother bought his Commodore something. That was fantastic. The graphics were AMAZING! compared to the bit thing of the Soundic. I remember he had a Donald Duck game. You had to get the right item on the right shelves and not break anything. And then there was the Olympic games. We got pretty good at wiggling that joystick.


It had some fantastically big floppy disks. And they seemingly could take a beating. I remember high jinx involving some leftover fireworks on a plate or something which were set a light… and floppy disks melting.. and still working.
There were also cassettes that he needed to play some games. I can't remember which games, but it doesn't matter. It was probably one of the fun ones.
Sweet 8-bit fun.
After years and years had passed we finally got a home computer. The games got better along with graphics. We, my brother and I, started playing games like Diablo.. and whatever else we could get as a demo for free.
There was one game which came with the computer. "The Lost mind of Dr. Brain". I didn't beat that one till after I moved here. It was a lot more fun to play it with the kids.
Another thing that came with the computer, and I don't think it can be defined as a game, was a newspaper making thing. You could write articles, put in pictures and stuff. It was really fun. Especially after I figured out that I could direct translate things into English. And then all of a sudden things made no sense at all.
I can't remember if I started playing The Sims before or after I moved here. I think it was after. I think the kids started playing and suggested I'd do it to.
So after I moved here I started playing more. I got my own computer, so it was easier. I played Diablo II, Sims 2 and later 3… and other fun stuff like Worms.
I also played Worms on my dads computer. I remember naming the loser team after all those dicks who teased me as a kid.
And now I have a PS3 and still my lovely computer. It's old, the computer is, but she's working and that makes me happy. I am planning on building a gaming computer for myself. Since I bought some games on the Steam summer sale, like LA Noire and Don't Starve, I need something that can actually handle it, and I'm afraid my old girl can't. But on her I have Minecraft, Starbound, Terrarria and more.
On the PS3 I still have some games I haven't tried. Well, one. Dead Space 2. I wanted to save it. If I get a Roxio game capturer I'll make my first playthrough of it on Twitch. At least, that's the plan. And there are still games I want for it. Like Lego Harry Potter.
I'll keep submerging myself in the pleasures of gaming. There still isn't enough hours in the day. And there are all these distractions… Like music and Rooster Teeth.. and blogging. It's a good thing I plan on getting old.
Stay toasty.
Lene